PoP is over, InterAm will be a distant memory, Anthrax is too far away, better save the date for Pink Dress! With enough time to recover from Interam, Th3's Seventh Anal Pink Dress Run, supporting Imerman Angels, will get your liver primed for the ensuing winter (because in Chicago, winter is actually coming, none of this bullshit Westeros fake news).
That's right wankers, it's about time to don your prettiest pink dresses to run around the streets of Chicago raising money for the largest global not-for-profit providing free one-on-one cancer support: connecting cancer fighters, survivors, and caregivers.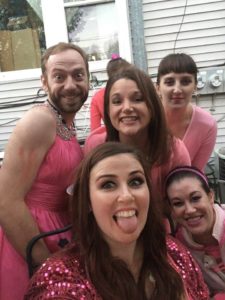 Rego: $69/weekend, $55/main event only

** Tentative Schedule of Events**
*Thursday, October 19: Pre-Pre Lube Dress Swap*
Hares: HornE, Foamy Discharge & Justy Matty
Venue: Big Joe's (1818 W. Foster)
Time: 7pm, On-out 7:30pm
Hash Cash: $8
Kick off the weekend pre-lubing the pre-lube with a Horne birthday trail. Bring your old pink dresses, go home with a new pink dress! It's also HornE's birthday so maybe there will be a pink cake or something. If you rego'd for the whole weekend, this is included in your rego.
*Friday, October 20: Pre-Lube Bar Crawl*
Hares: Your own damn GPS
Venue: Start at Double Bubble, Lineup Below
Hash Cash: Pay as You Go
Time: 7 p.m.
This is the same night as a moon hash and I've gotten soft in my old age and agreed to put the bar crawl near the hash so that you can hash with the moonies then meet back up with us on the crawl if you choose. The red line is kind of like the pink line? something something menstrual joke.
7:05 p.m. Double Bubble
8:20 p.m. Moody's Pub
9:50 p.m. Burke's Public House
11:05 p.m. Big Chicks
12:20 a.m. UPTOWN LOUNGE
Note: The bar crawl is scheduled as pay-as-you-go, the only event not included in the rego.
*Saturday, October 21: MAIN EVENT!*
Time: 3 p.m., On-Out 3:30 p.m.
Hares: Menstrual Casserole & Silent But Deadly
Location: Celtic Crown (4301 N. Western)
Hash Cash: Walk Ups $65
Are you surprised it's at Celtic Crown? You shouldn't be. Hopefully it will be another night of magic and fun and tears and onesie swapping and the longest circle you can shake a fist at. Trail will be the usual running around in dresses, getting drunk off pink shots, drinking lots of beer and most importantly, raising money for Imerman Angels. Beer, food, fundraising, games, prizes, etc. (I can tell you right meow tho, the gimmies are late. sorry. don't blame me i voted for rumson).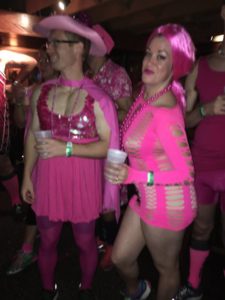 *Sunday, October 22: Hangover Brunch*
Hares: idk talk to Roof H3
Venue: The Trailer Park in the Sky (Marina City, West Building, Unit 5010)
Hash Cash: $10 (or included in your weekend rego)
Time: 10am
This is just brunch. We just want brunch. With a view! And maybe a cuddle puddle. Unless of course there is a rogue takover from Roof H3. Event will be over in plenty of time to head over to Chicago H3's regular 2 PM hash later that day.
IMPORTANT INFORMATION!!!! Everyone who has rego'd for Pink Dress will have their name on the list in the lobby. Please tell security your name, that you're on the list and be prepared to show ID. You will be able to come and go for as long as this brunch is going. If you have not rego'd and plan on showing up LET US KNOW, even if it's day-of, text MCAsserole, because we really don't want COMFy to get calls in Omaha after he so nicely let us have brunch here. I'll consider posting my number here day of for any issues. Thanks! – SBD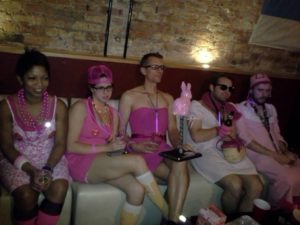 Who's Cumming
Thirstday H3
Cumagain Alley
Gay Dancer
Hooch Before Cooch
Loin Dick 2
Menstrual Casserole
Ritalin Cum Bubble
Sandy Syphilis
Silent But Deadly
The Dark Kunt
Boston H3
Takes it in the Assberger
Bushman H3
HornE
Carolina Trash H3
Goo Light Special
Chicago H3
Bangs with no Mercy
Feather
Fetus Envy
Just Jess
Just Wendy
Pearl Vision
Sight for Sore Eye
Snatchsquatch
Two Girls One Cupcake
Teenie Bopper
Dublin H3
Thomas the Drank Engine
FUCH3
2 LeClit 2 Shit
Captain Catpiss
Cheese Eating Surrender
Crumb Bitch Crumb
Brazilian Whacks Off
Dick Jacker
Just Rose
Khal Drunko the Turd
Lone Wanker
Placentahontas
Second City H3
Crashtest BlowMe
White House H3
Wreath Around