The 8th Anal Thirstday Pink Dress Run will once again Support Imerman Angels, the largest global not-for-profit providing free one-on-one cancer support: connecting cancer fighters, survivors, and caregivers.
Rego is currently $79 for the whole weekend. Sure there is a single day option, but it's for charity so just rego for the whole weekend yeah?
To create your own fundraising page, visit Our Team Page and click "Join The Team & Create Your Own Fundraiser," then create your Crowdrise account if you don't already have one and follow the prompts to set up your own page with our team. Message Menstrual Casserole if you have any issues or questions (about this…not about your sad, little life in general).
Rego: $79/weekend, $65/main event only

** Tentative Schedule of Events**
*Thursday, October 11: Pre-Pre Lube Dress Swap*
Hares: Furry Spice, Captain's Log & Just Sasha
Venue: Celtic Crown (2356 W Cullom)
Time: 7pm, On-out 7:30pm
Hash Cash: $10
Kick off the weekend pre-lubing the pre-lube with a Captain Spice trail. Bring your old pink dresses, go home with a new pink dress! This is a typical Captain's Log trail, so be ready for gimmicks. The hares claim it will be #toty, which is probably true, but they forgot one letter, #wtoty (Worst Trail of the Year). If you rego'd for the whole weekend, this is included in your rego.
*Friday, October 12: Pre-Lube Bar Crawl*
Hares: Your own damn GPS
Venue: Start at Cobra Lounge, Lineup Below
Hash Cash: Pay as You Go
Time: 7 p.m.
TAKING IT BACK TO THE PINK LINE. We'll be crawling along the pink line to find bars that will take our janky asses. Lineup:
7-8:30 Cobra Lounge/All Rise Brewing
8:45-10 Kaiser Tiger
10:15-11:15 Haymarket Brewery
11:30-12:30 New Line Tavern 
12:45-2 Stocks & Blondes
Note: The bar crawl is scheduled as pay-as-you-go, the only event not included in the rego.
*Saturday, October 13: MAIN EVENT!*
Time: 2 p.m., On-Out 2:30 p.m.
Hares: Snatchsquatch & Gay Dancer
Location: Redmond's (3358 N. Sheffield)
Hash Cash: Walk Ups $75
This year's Main Event will be held at Redmond's. Yes, that place. Home of PoP PreLube, many hash on-afters, and general black hole of bad decisions. It will be another night of magic and fun and tears and sharpie tattoos and the longest circle you can shake a fist at. Trail will be the usual running around in dresses, getting drunk off pink shots, drinking lots of beer and most importantly, raising money for Imerman Angels. Beer, food, fundraising, games, prizes, etc.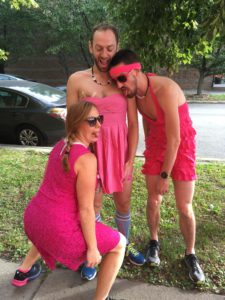 *Sunday, October 14: Hangover Brunch*
Hares: huh? wut? nah
Venue: Bird Leaf Nest
Hash Cash: $10 (or included in your weekend rego)
Time: 10am
Brunch Long and Hard at the Bird Leaf Nest. There might be a trail but probably not. We'll have a circle regardless. Event will be "over" in plenty of time to head over to Chicago H3's regular 2 PM hash later that day (hint: you won't have to go far).
Who's Cumming
Thirstday H3
Menstrual Casserole
The Dark Kunt
Tell It To My Nipples
Baby Dick H3/Friendly Toast H3
Furry Spice
Chicago H3
Back Door County
Chunder Pussy
It's Too Soft
Khal Drunko The Turd
Feather
Gay Dancer
Hose Before Hoes
Just Mike
Just Sasha
Lifa
Pearl Vision
Prickly Puss
Snatchsquatch
Tub Dumping
Two Girls One Cupcake
Dallas H3
Faming Flaggot
FUCH H3
KinderGrindr
Lone Wanker
Larryville H3/Denver H3
Shits Fucks Leaves
MoA2H3
Just Josh
Queen City H3
Ascot to Mouth
Second City H3
Crashtest Blowme
The Vaj H3
Cement Boots